Regular price
$4,289.00 USD
Regular price
Sale price
$4,289.00 USD
Unit price
per
Sale
Sold out
Please feel free to contact a sales team member to help you complete your order by phone or email. Hello@bildenhome.com, +44 7500663224
Share
Shipping & Returns

We aim to ship all orders received before midday (Monday – Friday) within 48 hours.

Colour baths and basins are made to order, so please allow up to 6 weeks for delivery. Victoria + Albert Baths define ""gloss"" at a 90% gloss level, and ""matt"" at a 20% gloss level.

Orders over £1,000 qualify for free delivery. For orders under £1,000, a £20 delivery charge will apply.

Orders can only be fulfilled to Mainland U.K. addresses.
Dimensions & Specifications

Height | 600 mm
Width | 802 mm
Length | 1511 mm
Weight | 86kg
Capacity | 318 L

Materials

Victoria + Albert Baths are crafted from a patented technology QUARRYCAST™ material that provides an inherently superior bath. The QUARRYCAST™ material was developed using a proprietary blend of Volcanic LimestoneTM and high-performance resins. The result is a world-class stone composite with unparalleled strength, durability, and beauty. The naturally white, glossy surface is incredibly durable and resistant to hair dyes and bath oils. QUARRYCAST™ is a solid material that is more than twice as hard as acrylic and does not creak or flex. QUARRYCAST™ is warm to the touch and has outstanding insulating properties, keeping your bath water warmer for longer. The naturally glossy surface is easy to wipe clean.
Care Instructions

QUARRYCAST™ products are guaranteed for residential use for a period of 25 years. 25 year guarantee is the ultimate reassurance that our baths and basins are made to last.

QUARRYCAST™ products are guaranteed for commercial and business use for a period of 8 years.

At Victoria + Albert Baths, we believe that our unique QUARRYCASTTM material creates a naturally superior bath, which we are incredibly proud of. Please follow the care and maintenance advice below to ensure your bath, basin, and accompanying accessories look and feel beautiful for many years.

To demonstrate our confidence in the quality and reliability of our products, all Victoria + Albert products are guaranteed. Please see our terms and conditions for further details.

QUARRYCASTTM WHITE (GLOSS) BATHS AND BASINS
We recommend rinsing the bath or basin for light daily use with plenty of warm, soapy water. QUARRYCASTTM has excellent stain resistance, but we recommend that bath or basin water containing additives (oils, bath salts, dyes etc.) is always drained. Then the bath or basin is cleaned with fresh, warm water immediately after use. If this method does not remove any marks, we recommend a mild, non-abrasive household cleaner. Should you need to clean the bath or basin with an abrasive cleaner, as may be required after heavy use or for any stubborn staining, we recommend using an automotive-grade polish. Please note abrasives will cause the disappearance of the glossy look over a long period. Bleach-based cleaning products are compatible with QUARRYCASTTM, although, for environmental reasons, we do not recommend them. Always rinse any cleaning products off the bath or basin with fresh, clean water.

100% MATT BATHS AND BASINS
We recommend cleaning our 100% Matt products with warm, soapy water, per the advice for QUARRYCASTTM White (Gloss) products. All cleaning products should be fully rinsed with fresh, clean water afterwards. For any stubborn staining on products with a 100% Matt finish, we recommend using a fine scouring pad, such as the 3MTM Scotch-BriteTM Hand Pad.

PAINTED BATHS AND BASINS
For painted baths and basins, we recommend following the essential cleaning advice for QUARRYCASTTM White (Gloss) and 100% Matt products for internal use, in addition to the below:
Painted products with a gloss finish can be cleaned with neutral soaps and warm water. Anything more stubborn can be polished with a Polishing Kit, which is available from customer services.
Painted products with a matt finish should not be polished and can be cleaned with a specialist matt finish cleaner such as Flitz. Specialist matt finish cleaners will help ensure the finish remains matt. We recommend obtaining a specialist matt or gloss cleaner from an automotive store for stubborn staining. Please follow the instructions on the packaging and ensure the cleaning is not under hard pressure, as this can remove the matt finish.
Download Specification
Introducing the exquisite ios Freestanding Bathtub, a testament to luxury and sophistication in the realm of bath fixtures. Designed with urban dwellings and compact en suites in mind, this space-saving masterpiece effortlessly infuses elegance into any bathroom.
Crafted with meticulous attention to detail, the ios Freestanding Bathtub boasts a maximum capacity of 318 liters, offering a generous bathing experience within its compact frame. Its dimensions, carefully curated to optimize functionality without compromising style, stand at a height of 600 mm, a width of 802 mm, and a length of 1511 mm. The equilibrium between its size and capacity ensures a blissful immersion, reminiscent of opulent spa retreats.
Fashioned from the finest QUARRYCAST™ material, this exceptional bathtub showcases a mesmerizing gloss finish in its classic White variant, adding a touch of brilliance to your bathing sanctuary. Alternatively, the QUARRYCAST™ Standard Matt finish presents a subtly refined aesthetic, emphasizing understated elegance.
Weighing a mere 86 kg when empty, the ios Freestanding Bathtub exemplifies the seamless fusion of strength and grace. Its robust construction not only ensures durability but also promises longevity, allowing you to indulge in tranquil baths for years to come.
To preserve the pristine design and integrity of this freestanding marvel, tap holes cannot be drilled into its surface. However, fear not, as its stand-alone design enables effortless integration with a variety of wall-mounted or freestanding taps, allowing you to personalise your bathing experience to perfection.
The waste kit required for the iOS can be found here.
Transform your bathroom into a sanctuary of sophistication with the ios Freestanding Bathtub. Embrace the allure of space-saving design, uncompromising elegance, and timeless luxury. Elevate your bathing rituals and immerse yourself in a realm of pure indulgence.
We can create our bathtubs in bespoke colours to match any RAL. Feel free to request a consultation by reaching out to hello@bildenhome.com
View full details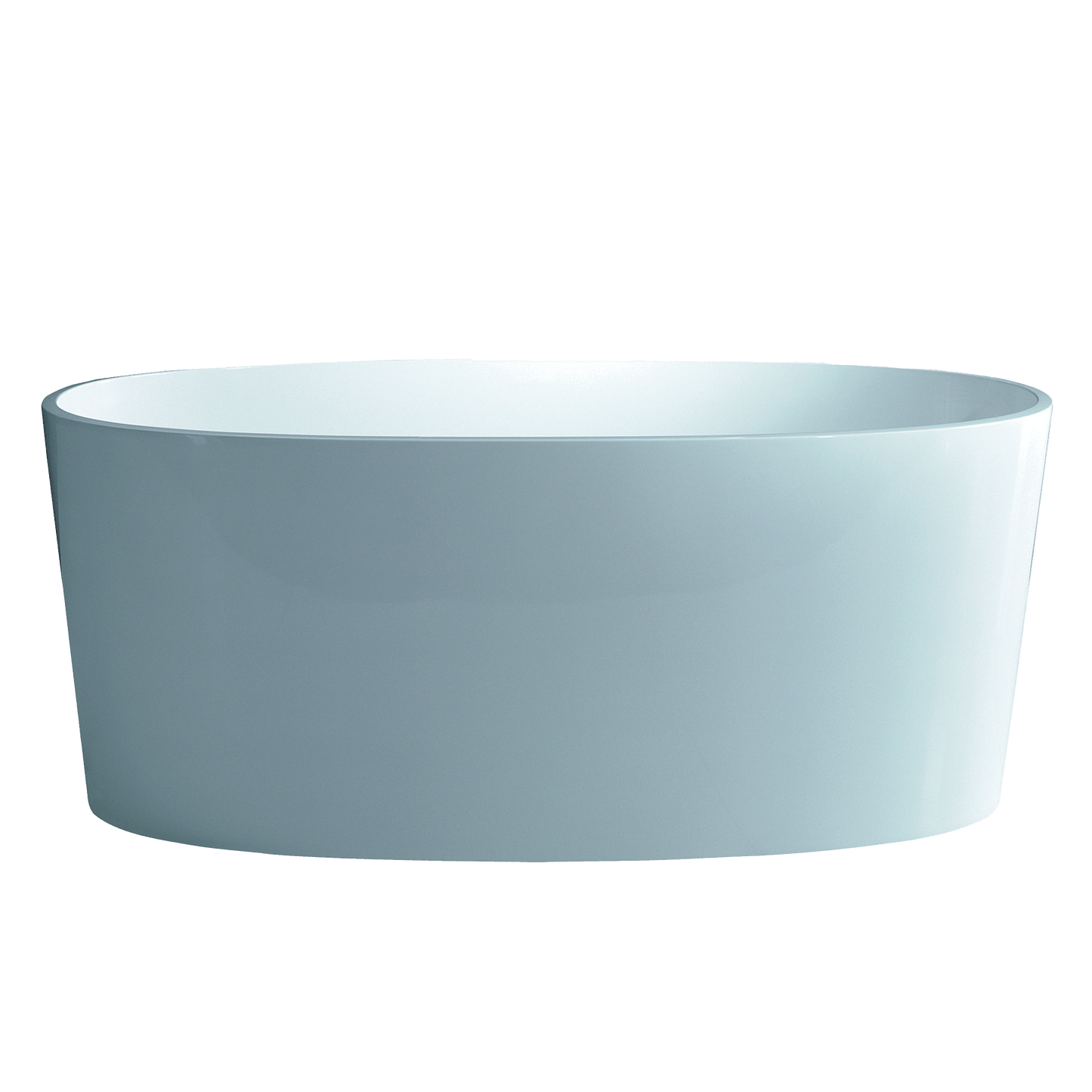 What our customers say about us…
"Good company to deal with very good communication". James Cremin

"Love my handles from Bilden. Very good quality and company itself was very helpful while ordering , will definitely use again". Sarah

"Excellent Product & matched by exceptional Customer Service. Highly Recommended". Al Hepburn