Regular price
$4,762.00 USD
Regular price
Sale price
$4,762.00 USD
Unit price
per
Sale
Sold out
Please feel free to contact a sales team member to help you complete your order by phone or email. Hello@bildenhome.com, +44 7500663224
Share
Shipping & Returns

We aim to ship all orders received before midday (Monday – Friday) within 48 hours.

Colour baths and basins are made to order, so please allow up to 6 weeks for delivery. Victoria + Albert Baths define "gloss" at a 90% gloss level, and "matt" at a 20% gloss level.

Orders over £1,000 qualify for free delivery. For orders under £1,000, a £20 delivery charge will apply.

Orders can only be fulfilled to Mainland U.K. addresses.

QUARRYCAST™ products are guaranteed for residential use for a period of 25 years. 25 year guarantee is the ultimate reassurance that our baths and basins are made to last.

QUARRYCAST™ products are guaranteed for commercial and business use for a period of 8 years.

PAINT FINISH EXTERIOR 2 YEAR GUARANTEE
The paint finish exterior is guaranteed for a period of 2 years.
Dimensions & Specifications

NOTE | Tap holes cannot be drilled for this product.

Height | 550 mm
Width | 726 mm
Length | 1519 mm
Capacity | 237 L

Compatible with the Victoria + Albert Waste Kit 12, 36 Intelligent Draining
Materials

QUARRYCAST™ White (Gloss)

QUARRYCASTTM is a solid material that is more than twice as hard as acrylic and does not creak or flex.
Care Instructions

QUARRYCASTTM WHITE (GLOSS) BATHS AND BASINS
We recommend rinsing the bath or basin for light daily use with plenty of warm, soapy water. QUARRYCASTTM has excellent stain resistance, but we recommend that bath or basin water containing additives (oils, bath salts, dyes etc.) is always drained. Then the bath or basin is cleaned with fresh, warm water immediately after use. If this method does not remove any marks, we recommend a mild, non-abrasive household cleaner. Should you need to clean the bath or basin with an abrasive cleaner, as may be required after heavy use or for any stubborn staining, we recommend using an automotive-grade polish. Please note abrasives will cause the disappearance of the glossy look over a long period. Bleach-based cleaning products are compatible with QUARRYCASTTM, although, for environmental reasons, we do not recommend them. Always rinse any cleaning products off the bath or basin with fresh, clean water.

100% MATT BATHS AND BASINS
We recommend cleaning our 100% Matt products with warm, soapy water, per the advice for QUARRYCASTTM White (Gloss) products. All cleaning products should be fully rinsed with fresh, clean water afterwards. For any stubborn staining on products with a 100% Matt finish, we recommend using a fine scouring pad, such as the 3MTM Scotch-BriteTM Hand Pad.

PAINTED BATHS AND BASINS
For painted baths and basins, we recommend following the essential cleaning advice for QUARRYCASTTM White (Gloss) and 100% Matt products for internal use, in addition to the below:
Painted products with a gloss finish can be cleaned with neutral soaps and warm water. Anything more stubborn can be polished with a Polishing Kit, which is available from customer services. Painted products with a matt finish should not be polished and can be cleaned with a specialist matt finish cleaner such as Flitz. Specialist matt finish cleaners will help ensure the finish remains matt. We recommend obtaining a specialist matt or gloss cleaner from an automotive store for stubborn staining. Please follow the instructions on the packaging and ensure the cleaning is not under hard pressure, as this can remove the matt finish.

CHROME, NICKEL, BRASS, BRONZE AND STAINLESS STEEL
We recommend Chrome, Nickel, Brass, Bronze and Stainless Steel products are dried after each use with a soft cloth to reduce any marks from standing water that may contain impurities. Any residues from cosmetic products, aggressive cleaning products and similar should be immediately rinsed away with clean water. Clean with neutral soap and warm water using a microfibre cloth. A 50/50 solution of lemon juice and water is recommended to remove limescale. Apply to cotton wool and wrap on the area for a maximum of 60 minutes, and then rinse clean with clean water, repeat as required. For Stainless Steel products, stubborn marks can be removed with a soft cloth and specialist stainless steel cleaner. Do not use harsh cleaning chemicals containing acids, alkaline, caustics or grits. Bleaches, alcohol and vinegar-based cleaners should be avoided. Do not use abrasive cloths, scouring pads, scrub sponges, steel wool etc., as these can scratch the product's surface and promote deterioration of the finish.

REPAIR AND MAINTENANCE

QUARRYCASTTM is scratch resistant. However, if any scratches do occur in extreme conditions, such as installation, these can be removed with the correct treatment.

For QUARRYCASTTM White (Gloss) products, light scratches that cannot be felt with a fingernail may be removed by polishing with a fine-cut automotive compound. If they remain, try rubbing with a fine (2000 grit) waterproof abrasive paper on a sanding block with water. Re-polish the surface afterwards using a fine-cut automotive rubbing compound from reputable or professional auto paint supply stores. Limit sanding to the smallest possible area around the scratch for best results. Deep scratches that can be felt with a fingernail will require a more specific repair, and we recommend you contact customer services to be talked through the steps.

For 100% Matt products, any light scratches that cannot be felt with a fingernail may be removed by rubbing in a circular motion with a scouring pad using light pressure. If they remain, try rubbing with a fine (1500-2000 grit) waterproof abrasive paper on a sanding block with water. For deeper scratches, please get in touch with customer services. Hello@bildenhome.com
Download Specification
Presenting the Amiata freestanding bathtub collection, created by Meneghello Paolelli Associati, known for its impressive design. This collection combines timeless style and comfort with its curved shape and well-proportioned design. Whether your bathroom has a modern or traditional look, the Amiata freestanding bathtub will add an elegant touch.
The Amiata 1500 model series shares the same design as the Amiata 1650 but takes up less space and has room underneath for plumbing. They are designed to be able to bathe at either end of the bathtub.
The Victoria + Albert bathtub collection is made from a material called Victoria + Albert Baths QUARRYCAST™. It is incredibly strong and durable, made from a blend of Volcanic Limestone™ and strong resins. The result is a beautiful stone composite that resists damage from hair dyes and bath oils. It is also twice as strong as acrylic and doesn't make creaking sounds.
QUARRYCAST™ feels warm to the touch and keeps your bathwater warmer for longer. It has a glossy surface that is easy to clean with a simple wipe. If you want a bathtub in a specific colour, we can create one just for you to match any RAL. You can also visit the Victoria + Albert showroom at the Chelsea Design Centre in West London by making an appointment at hello@bildenhome.com.
To complete your standalone tub setup, we have push control or plug and chain bath waste kits available in brushed nickel, polished nickel, polished brass, and polished chrome finishes. These options allow you to personalise your bathtub according to your style and preferences, ensuring a seamless and tailored bathing experience.
Bilden Home & Hardware Market offer a variety of freestanding tubs. Our collection is meticulously crafted by skilled artisans, many of which are handmade. Discover our full bathtub collection here today collection.
View full details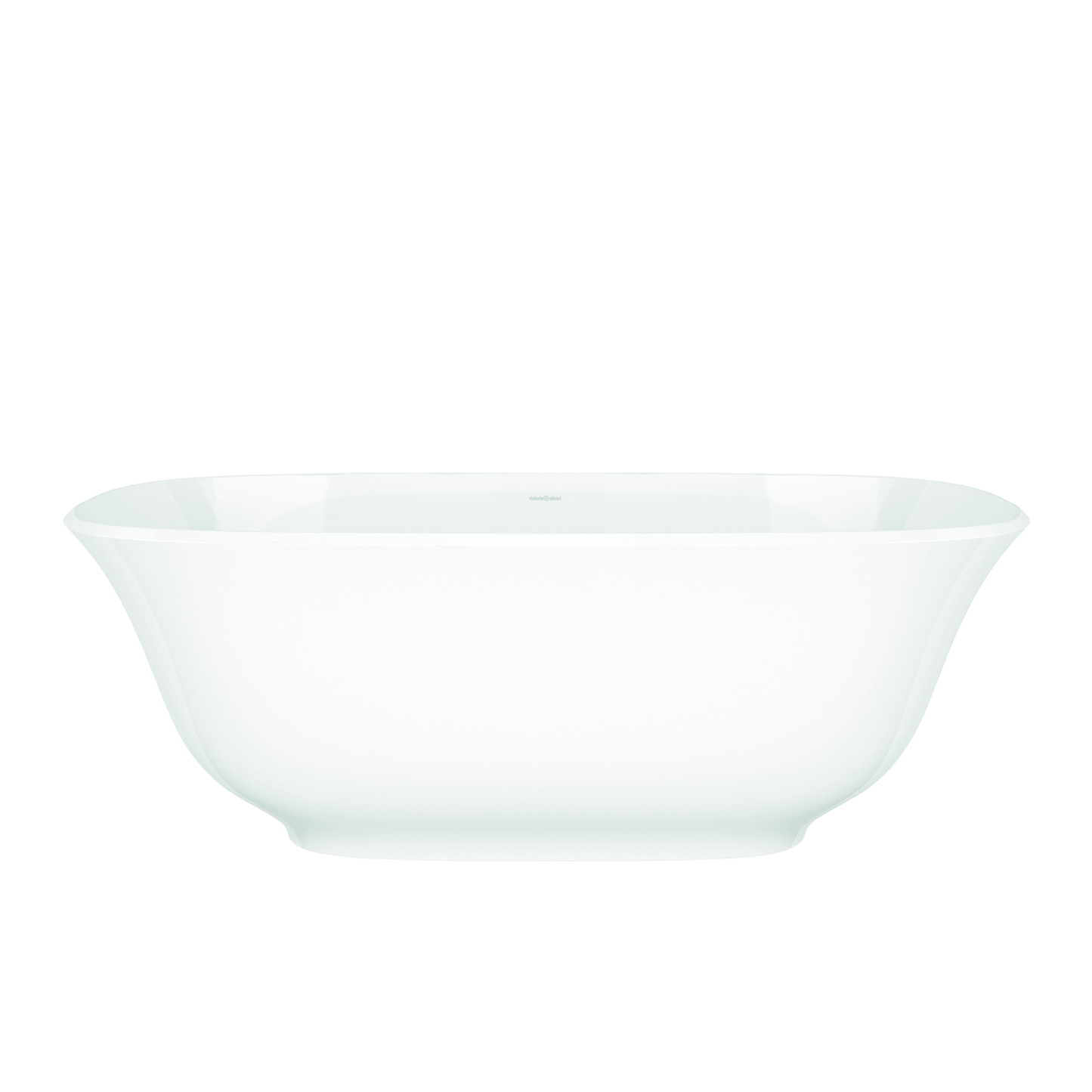 What our customers say about us…
"Good company to deal with very good communication". James Cremin

"Love my handles from Bilden. Very good quality and company itself was very helpful while ordering , will definitely use again". Sarah

"Excellent Product & matched by exceptional Customer Service. Highly Recommended". Al Hepburn